News
Showdown 150 is now live, with Bobby Dean competing in the main event on the last show before his sVo Championship shot at the...
News
The P:V Championship is on the line in the main event of Uprising 41, as 'the Dark Horse' Curtis Knight takes on 'Big' Stevie...
News
sVo Showdown 149 hits the TheHOTvNetwork on PWA_TV as Night competes in the main event against 'Brawling' Bronson Johnson and sVo Champion August Lazar...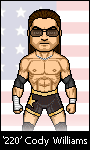 "Did I come back so that I could finally be able to realize my dream of being the sVo Champion? HELL YES!!! There are so many more reasons why I came back, but to make a long story short, I came back because I wanted to come back home. And boy does it feel good to be back!"

- Cody Williams (19th November 2012)
sVo Events
Bobby Dean takes on Bronson Johnson in the main event and Night answers Hugo Ryzing's challenge, in the last event before Roll the Dice...
P:V Events
The P:V Championship is up for grabs in the main event as Curtis Knight takes on Stevie Rigg!