News
This week Showdown 140 hits the airwaves on HOTv, with Bobby Dean looking for his tenth successive Roulette Championship defence! If Bobby Dean manages...
News
The sVo today released its schedule of events for the rest of 2022 and the first few months of 2023. After last weeks Vendetta...
News
Showdown 139 hits HOTv with some hot action, as BBD takes on Las Vegas Champion Carny Sinclair for his eight Roulette Championship defence, Night...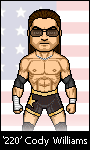 "Did I come back so that I could finally be able to realize my dream of being the sVo Champion? HELL YES!!! There are so many more reasons why I came back, but to make a long story short, I came back because I wanted to come back home. And boy does it feel good to be back!"

- Cody Williams (19th November 2012)
TV
BBD aims to defend the Roulette Championship for the tenth time in the main event. allowing him to cash in for a sVo Championship...
PPV Events
William Vorheez defends the sVo Championship against Big Aug in the main event